Groundworks
We don't conduct ground works directly but we do provide drawings and help project manage.

We usually recommend a steel mesh reinforced concrete slab foundation min depth 200mm.

Our Mobile Homes sit on a single row of breeze blocks laid flat around the perimeter of the structure.

Waste pipes are normally located under/in the slab.
As mobile home manufacturers we produce the homes and do NOT conduct ground works.
We don't conduct groundworks or locating the services (waste, water, electrics, gas/oil) to the site location. This are always cheaper and easier with a local firm. We provide a setting out diagram for the basic size of the slab and suggested depths, although these are determined by the commissioned ground work company.
Trying searching for a local company on check-a-trade or yell.com. Just email a section of companies the diagram we provide.
Course of Block Work:
Mobile homes build with our methodology can't site directly on the base. We require min. 1 course breeze blocks laid flat around the perimeter of the build and a line down the center. The ring-beam of the timber chassis sits on the breeze blocks, enabling the space for a steel cradle or straps to be positioned under the home, allowing the structure to be lifted by a crane.
Drawings Provides. Size required and
suggested

depths:
For each new home we provide a setting out diagram for the size of the slab, this is slightly smaller than the actual size of the home. After the batten and cladding is added, the exterior wall sits just over the edge of the slab. We suggest concrete raft slab foundation of min depth 200mm although the actual depth will be determined by the conditions of the site, soil and bedrock.
Services and Drainage:
Your setting out diagram will show the required waste pipe locations. The dranage pipes should be laid under/in the slab, usually in just 1-2 runs, with stack pipes coming up of the main pipe in locations indicated in the drawing. Although they can also be sited externally. We require the stack pipes to be 2ft above ground level (see images). For services there will often just be one point, in a kitchen or utility room, where the water, gas and electric services are ducted.
Prices:
Please note the cost of the actually slab usually accounts for around 60-70% of the actual ground works costs as locating the services to the site will often take 30-40% of the budget. The price for services is specific to each site and home. For example costs of concrete slabs visit our webpage Ground Works Concrete Foundation General Prices
Example Setting Out Diagram for a 65 x 22 Ft Mobile Home: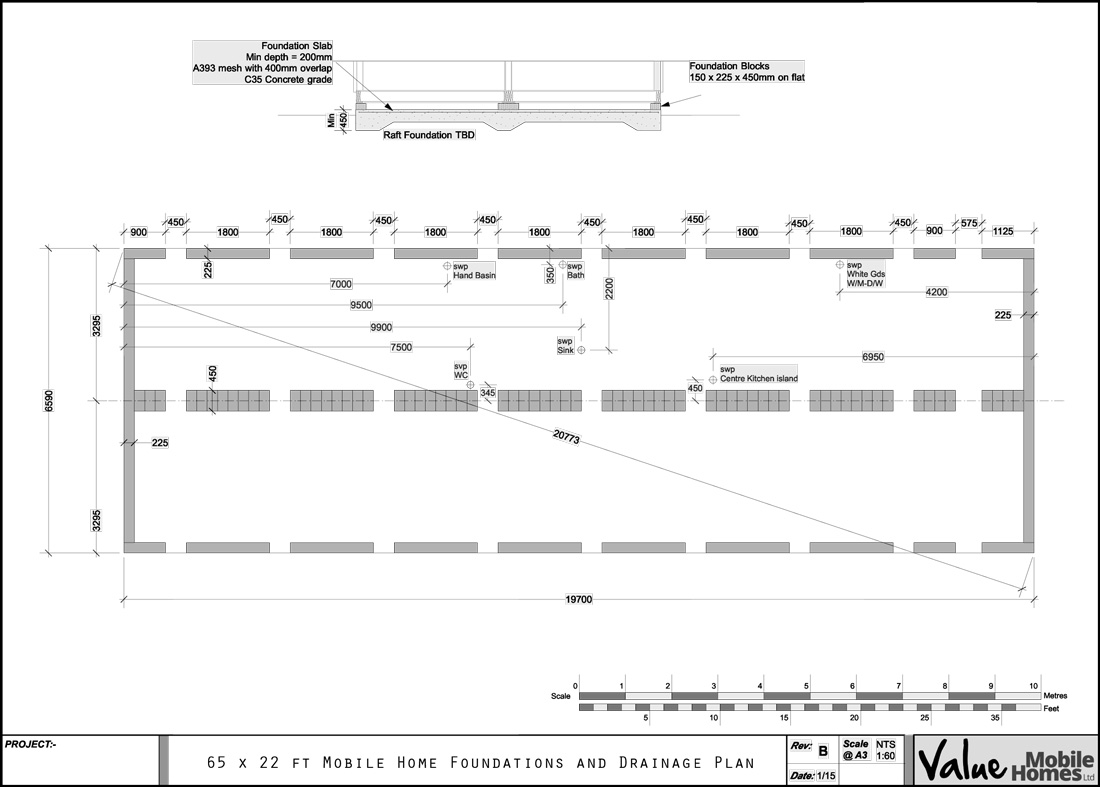 Photographs. A collection ground works for mobile homes