Use of a mobile home in the garden of a residential house.
Siting a mobile home in a garden does not directly require planning but we advise applying for a 'Certificate of Lawfulness' from the Planning Authorities. This is essentially a letter from the Council confirming you don't need planning permission as your project doesn't involve development or change of use of the land.
IF YOU ARE PRE-PLANNING AND INTENDING TO USE A MOBILE HOME IN YOUR GARDEN WE STRONGLY RECOMMEND YOU GET AND FOLLOW THE PLANNING GUIDE AVAILABLE ON AMAZON (LINK BELOW)
https://www.amazon.co.uk/dp/152725755X/ref=olp_product_details?_encoding=UTF8&me=
Mobile homes in gardens: The planning guide tells you how to get extra living space – without needing planning permission -including:
little known about or understood principle of mobile homes in gardens

three most important factors in being able to put a mobile home in your garden

essential law you need to know

most common restrictions

how your proposal will be assessed by the council

where to place your mobile home

allowed uses of garden mobile homes

how to make the appropriate application

answers to the most common questions homeowners ask
This is the definite guide to mobile homes in domestic gardens without planning permission. It explains how it can be possible to circumvent council's often encountered resistance to allowing homeowners the additional accommodation they need to accommodate elderly parents or grown-up children. The information is clearly presented and written in a highly accessible style, making a complex subject easily understandable to non-specialist householders. The guide contains a complete example mobile home application.
EXCERPTS: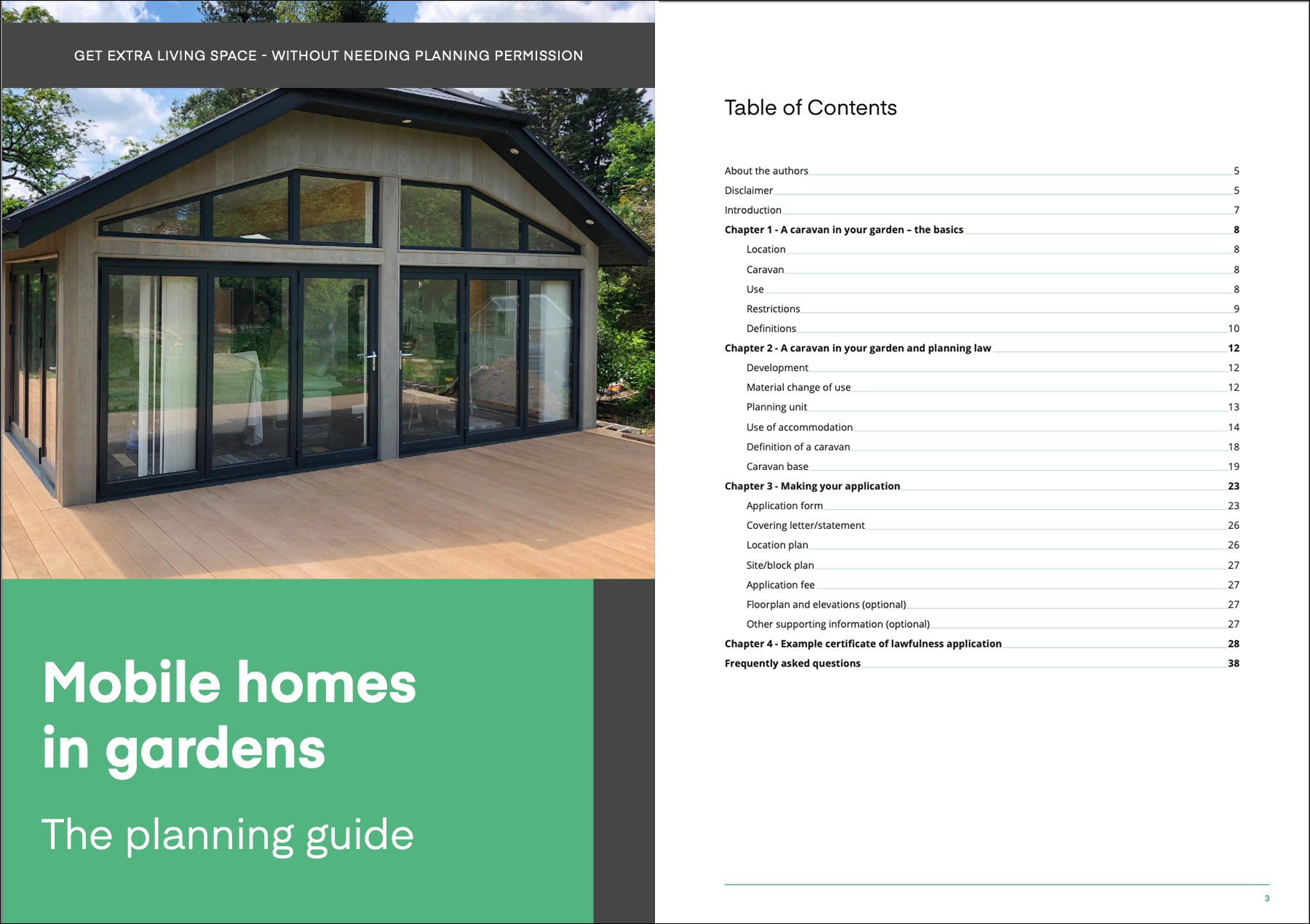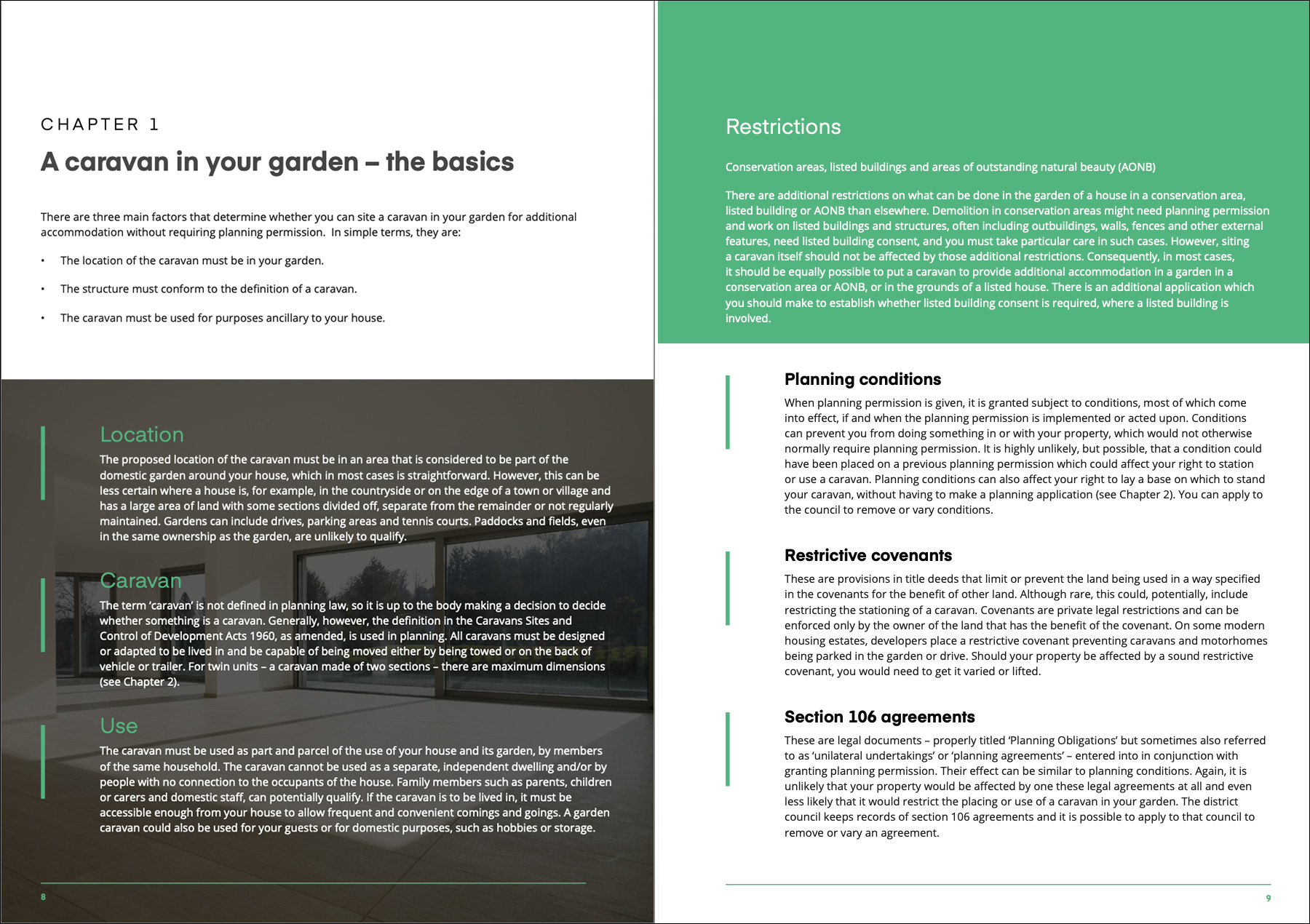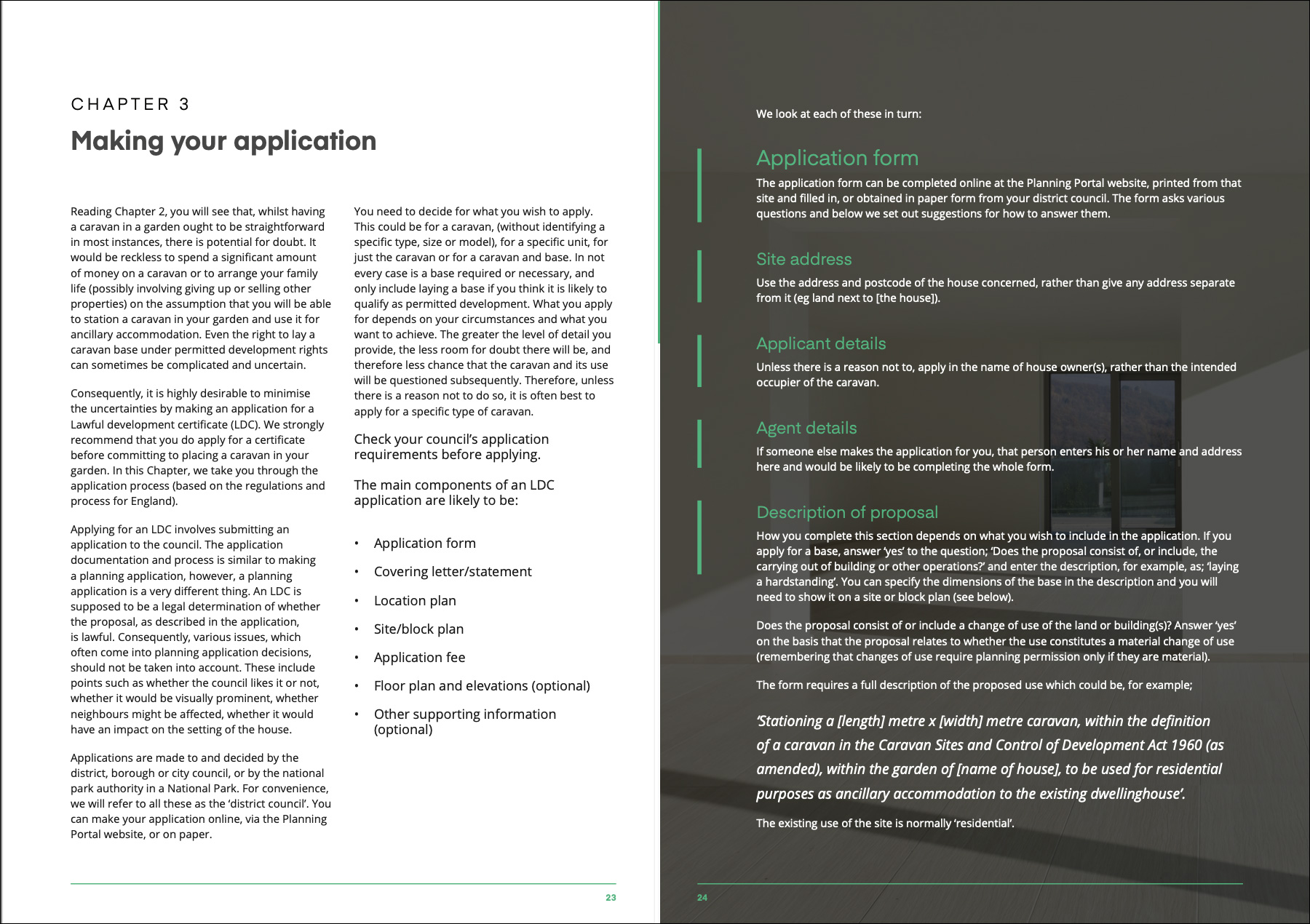 Introduction
Welcome to Mobile homes in gardens – The planning guide, the guide to using a mobile home or static caravan for additional residential accommodation in your garden, without needing planning permission.
There are several reasons why placing a structure, which comes within the legal definition of a caravan, in a domestic garden, is an increasingly popular way of creating additional space.
Firstly, the demand for housing and living space for grown-up children, ageing parents or other relatives is extremely high and the cost of buying a home is prohibitive for many. Secondly, planning policies and regulations often restrict or prevent extra living accommodation in gardens, such as an annexe building. Installing a mobile home is subject to different rules, which can – in the right circumstances and done the right way – avoid suchplanning restrictions. Thirdly, standard caravans and mobile homes lack architectural beauty and, in the past, provided low-quality living standards. However, modern designs and build methods can now offer all the luxury of a conventional construction.
It is surprising to many, including some council planning officers and councillors that the rules on planning permission relating to touring caravans (the type towed behind a car) also apply to mobile homes and static caravans, which can be significantly larger and suitable for year-round residential accommodation on a long-term or permanent basis. Generally speaking, if you can park a touring caravan on your drive, you should be able to have a large mobile home in your garden instead.
You might have seen mobile homes and static caravans being transported along the motorways and thought of the practical impossibility of delivering and placing such a structure in your own back garden, particularly because of access problems. This need not be the case. Mobile homes and caravans, even large ones, can be assembled on site where access is restricted.
Whilst all this might sound straightforward, there are various considerations, potential complexities and interpretations. Fortunately, the uncertainties can be reduced by making an application to the council for a formal certificate. This will establish whether, in your particular circumstances, you have the right to place a mobile home or static caravan in your garden to use for your intended purpose. We strongly recommend you obtain one of these certificates before proceeding with any project.
This guide takes you through the main issues involved in having a mobile home or static caravan in your garden. It will then show you how to make an application to the council.
You might expect all the issues involved to be well established and clear-cut. Sadly, this is not the case and there are various interpretations evident in decisions on applications to councils and appeal decisions. The approach set out in this book is based on our understanding and opinion and on our practical experience in this area, gained over many years.
This guide is based on law and regulations for England.
PLANNING GUIDE AVAILABLE ON AMAZON (LINK BELOW)
https://www.amazon.co.uk/dp/152725755X/ref=olp_product_details?_encoding=UTF8&me=