Mobile Home Manufacturers Prices – 3 Bed Flat Roof Twin Unit. 18.2 x 6.7m (60x22ft)
This luxury twin unit mobile home features:
Three Bedrooms
Modern Flat roof
Recessed Entrance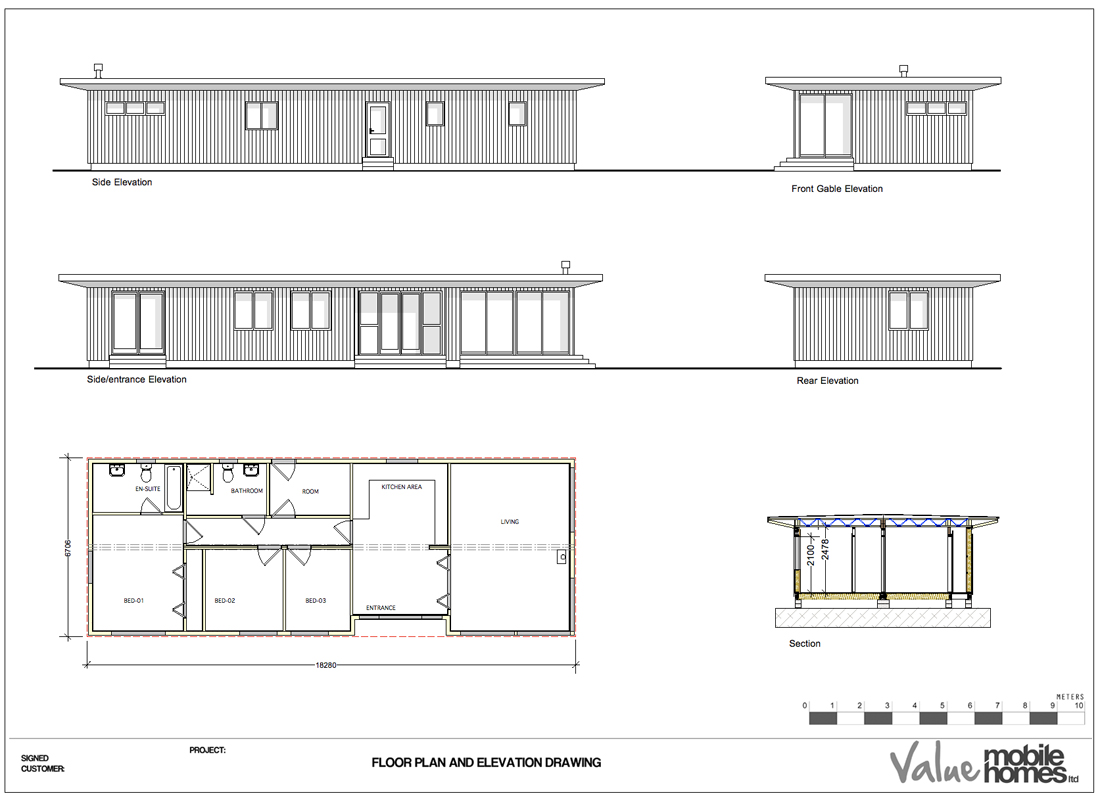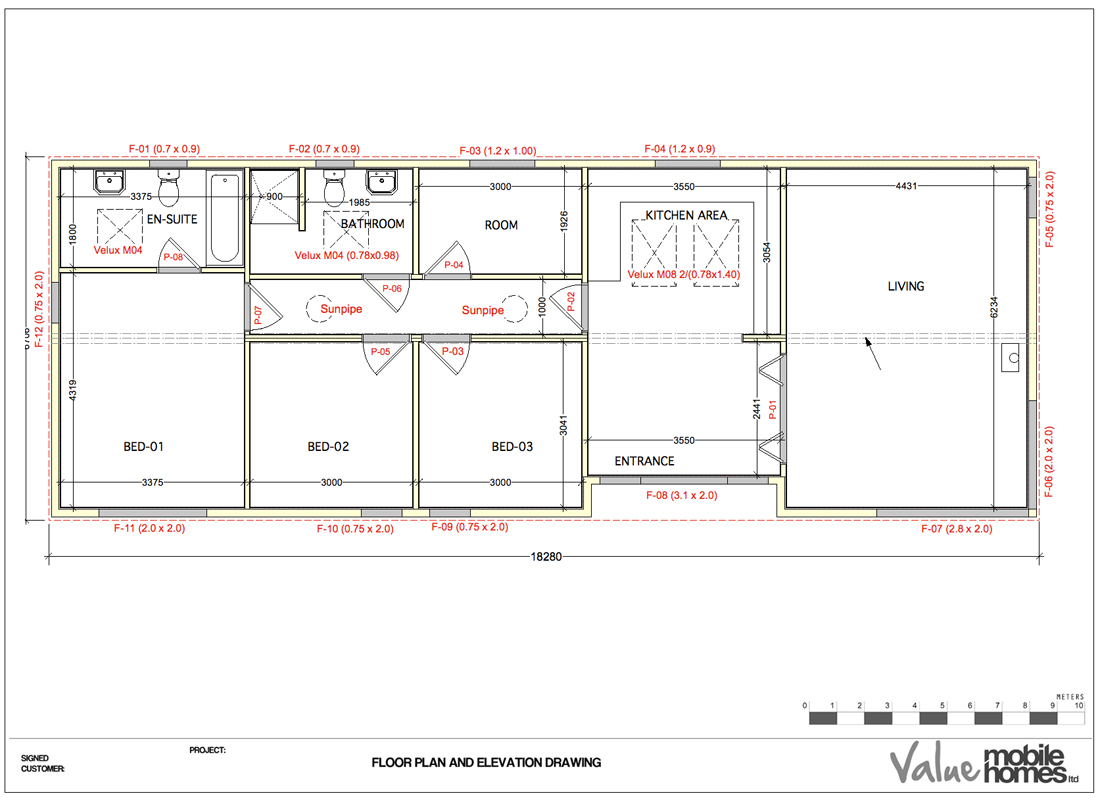 Size
EXTERNAL SIZE (measured from corner to corner of finished walls)
METERS (M)
FEET (FT)
WIDTH
6.7
22.0
LENGTH
18.2
59.7
TOTAL EXTERIOR FOOTPRINT SQUARED
121.9
1313
Price options: Each price includes the same timber frame building but different materials for finishing, for example felt or slate tiles. The details of different examples prices are detailed below although ultimately the bespoke choice of finishes is chosen by each client to suit their style and budget. Most mobile homes of this size are completed within the price spectrum indicated below. Prices are for fully finished homes delivered and completed (excluding groundworks).
| | | | | |
| --- | --- | --- | --- | --- |
| PRICE OPTIONS | | VAT | NET | TOTAL |
| Basic Finish | | 0% | | £96,516 |
| High Finish | | 0% | | £117,031 |
| Luxury Finish | | 0% | | £145,344 |
Basic Price includes; UPVC windows, Softwood cladding or render paint, Felt tiles, basic kitchen, carpet
+more…
EXAMPLE PRICE – BASIC FINISH
SPECIFICATION
TIMBER FRAME STRUCTURE – DESIGN AND ENGINEERING
£38,447
WINDOW AND DOOR – UPVC PLASTIC IN WHITE
£5,740
ROOF FINISH – BITUMEN FELT SHINGLE TILE
£4,130
EXTERIOR FINISH – TEXTURED PAINT
£2,754
SOFFIT AND FASCIA – UPVC PLASTIC
£1,505
RAINWATER GOODS – UPVC PLASTIC
£492
INSULATION – STANDARD GLASS MINERAL WOOL ROLL
£2,914
WALL LININGS – STANDARD PLASTERBOARD AND SKIM
£10,081
HEATING – BASIC COMBINATION BOILER WITH CONVECTION RADIATORS
£5,212
PLUMBING
£4,615
ELECTRICS
£6,237
KITCHEN(Budget Price – 30%)
£4,200
INTERNAL DOORS AND CARPENTRY – BASIC PANEL DOORS, SOFTWOOD LINING, FURNITURE
£1,615
MDF SKIRTING, ARCHITRAVE AND SILLS
£1,058
FLOOR FINISH – CARPET
£2,006
WALL TILING – VINYL SHEET TILE
£792
DECORATING WALLS – STANDARD EMULSION DECORATING WALLS AND CEILING
£3,713
DECORATING SKIRTING AND ARCHITRAVE –
£1,006

TOTAL

£96,516
High Standard Includes; Timber windows, Weatherboard cladding, Velux, Metrotile roof tiles, quality kitchen, wooden flooring
+more…
EXAMPLE PRICE – HIGH STANDARD RESIDENTIAL BS:3632

SPECIFICATION
TIMBER FRAME STRUCTURE – DESIGN AND ENGINEERING
£40,581
WINDOW AND DOOR – FACTORY PAINTED TIMBER
£8,843
VELUX ROOF LIGHTS
£512
ROOF FINISH – METROTILE
£7,022
EXTERIOR FINISH – WEATHERBOARD
£5,360
SOFFIT AND FASCIA – UPVC PLASTIC
£1,505
RAINWATER GOODS – UPVC PLASTIC
£492
INSULATION – GLASS MINERAL WOOL SLAB
£4,685
WALL LININGS – STANDARD PLASTERBOARD AND SKIM
£10,081
HEATING – QUALITY COMBINATION BOILER WITH DESIGNER RADIATORS
£6,627
PLUMBING
£4,615
ELECTRICS
£6,237
KITCHEN (Budget Price)
£5,250
INTERNAL DOORS AND CARPENTRY – QUALITY TIMBER DOORS, SOFTWOOD LINING, FURNITURE
£2,695
MDF SKIRTING, ARCHITRAVE AND SILLS
£1,058
FLOOR FINISH – REAL OAK ENGINEERED FLOORING
£5,048
WALL TILING – CERAMIC TILED WALLS
£1,440
DECORATING WALLS – STANDARD EMULSION DECORATING WALLS AND CEILING
£3,713
DECORATING SKIRTING AND ARCHITRAVE – GLOSS WOODWORK AND OIL DOORS
£1,269

TOTAL

£117,031
Luxury Standard Includes; Aluminium clad timber windows, Cedar Cladding, Velux, slate tile roof, Kingspan insulation, large kitchen, wooden flooring, oak carpentry +more…
EXAMPLE PRICE – LUXURY STANDARD BUILDING REGULATIONS
SPECIFICATION
TIMBER FRAME STRUCTURE – DESIGN AND ENGINEERING
£40,581
WINDOW AND DOORS – ALUMINIUM CLAD SOFTWOOD
£16,442
VELUX ROOF LIGHTS AND SUNTUBES
£869
ROOF FINISH – CAMBRIAN SLATE COMPOSITE INTERLOCKING TILES
£10,296
EXTERIOR FINISH – WESTERN RED CEDAR (PEFC Certified)
£5,592
SOFFIT AND FASCIA – ALUMINIUM
£4,787
RAINWATER GOODS – ALUMINIUM
£1,006
INSULATION – FOAM BOARD KINGSPAN/CELOTEX
£11,661
WALL LININGS – STANDARD PLASTERBOARD AND SKIM
£10,081
HEATING – QUALITY COMBINATION BOILER WITH DESIGNER RADIATORS
£6,627
PLUMBING
£4,615
ELECTRICS
£6,237
KITCHEN (Double Budget Price)
£10,500
INTERNAL DOORS AND CARPENTRY – QUALITY TIMBER DOORS, SOFTWOOD LINING, FURNITURE
£2,695
OAK SKIRTING, ARCHITRAVE AND SILLS
£1,735
FLOOR FINISH – REAL OAK ENGINEERED FLOORING
£5,048
WALL TILING – NATURAL STONE / MARBLE TILED WALLS
£2,160
DECORATING WALLS – STANDARD EMULSION DECORATING WALLS AND CEILING
£3,713
DECORATING SKIRTING AND ARCHITRAVE – OIL TO WOODWORK AND DOORS
£701

TOTAL

£145,344