12.5mm Knauf Knauf Aquapanel Exterior Cement Board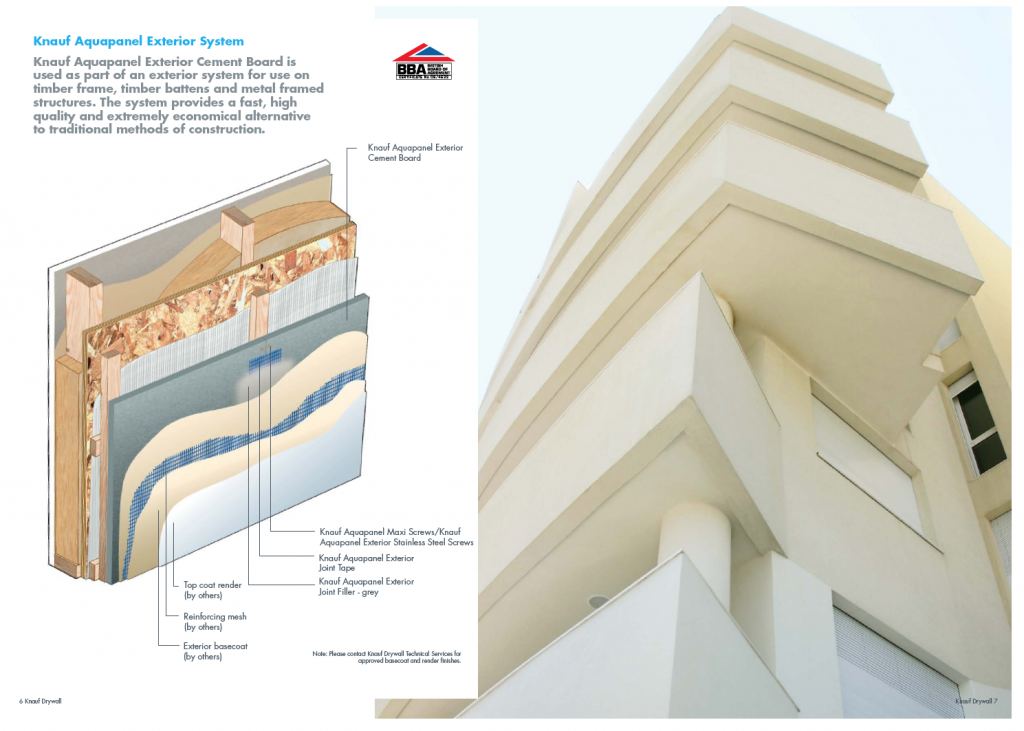 Length: 2400mm
Width: 900mm
Coverage: 2.16m2
Thickness: 12.5mm
We use Knauf Aquapanel Exterior Cement Boards. They provide a solid, dry base that can withstand the extreme weathering effects of wind, rain and snow. It is an ideal substrate for directly applied render finishes and can be used for exterior walls in ventilated systems,exterior ceilings and soffits. Once taped and jointed, Knauf Aquapanel Exterior can be left unfinished for up to six months, making use of thesmallest windows of opportunity to completely close the external envelope, maximising the efficiency of the projects chedule. Knauf Aquapanel Exterior is easily curved, allowing for striking architectural features to be formed. It is also ideal for creating exterior soffits and the illusion of an internal ceiling continuing through the façade to the outside of the building. Knauf Aquapanel Exterior provides a fast, high quality and extremely economical alternative to traditional methods of construction.
APPLICATION
• exterior cladding- Knauf Aquapanel Exterior is ideal for use on timber frame, timber battens and metal framed structures
• exterior ceilings and soffits -creating seamless exterior ceilings and soffits with Knauf Aquapanel Exterior is simple, it is mechanically fixed to exterior grade steelwork and provides a smooth finish for further decoration.
12.5mm Knauf Aquapanel Exterior Cement Board characteristics:
• easy to cut and fix
• robust, stable substrate
• easily curved
• BBA certified
• NHBC and Premier Guarantee Approved
CERTIFICATES
• The Knauf Aquapanel Exterior System has been rigorously tested and certified by the BBA, for use as a ventilated exterior wall panel system on timber frame and steel frame buildings.The BBA certification process also confirms that the Knauf Aquapanel Exterior System is accepted by NHBC, Premier Guarentee and LABC. Refer to BBA Certificate Number 09/4633.